WeightWatchers Peppermint Meltaway Cookies Recipe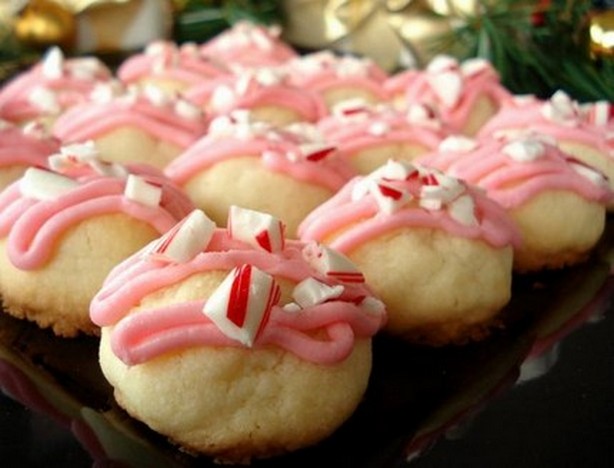 These cookies are on my "must have" list at Christmas. Not only they are really pretty, but they have a heavenly "melt in your mouth" taste (buttery, but not too minty). You can also try them with a chocolate-mint drizzle or with other flavorings, such as lemon.
Weight Watchers Peppermint Meltaway Cookies recipe
Ingredients
For the cookies
1 cup butter, softened
1/2 cup powdered sugar
1/2 teaspoon peppermint extract
1/2 cup cornstarch
1 1/4 cups all-purpose flour
For the glaze
2 tablespoons butter, softened
1 1/2 cups powdered sugar
1/4 teaspoon peppermint extract
1-2 tablespoon milk
2-3 drops red food coloring
candy cane or hard peppermint candies, crushed
Preparation
1. To make the cookies: in a large mixer bowl, combine the butter, sugar and 1/2 teaspoon peppermint extract.
2. Beat at medium speed for about 1-2 minutes (until creamy).
3. Reduce the speed to low; add the cornstarch and flour.
4. Beat for about 1-2 minutes (until well mixed).
5. Cover and refrigerate for about 30 minutes to an hour (until firm).
6. Heat oven to 350 degrees F. Shape rounded teaspoonfuls of dough into 1-inch balls.
7. Place the dough balls 2 inches apart on an ungreased cookie sheet.
8. Bake for about 12-15 minutes (until the edges are lightly browned).
9. Let stand for 1 minute; remove from the cookie sheets.
10. Let cool completely.
11. To make the glaze: in a small bowl, combine 2 tablespoons butter, 1 1/2 cups powdered sugar, 1/4 teaspoon peppermint extract and enough milk for the desired glazing consistency.
12. Stir in the food coloring, if desired.
13. Drizzle the glaze over the cooled cookies.
14. Immediately sprinkle with crushed candy, or put the crushed candy in a bowl and dip the top of the cookies in them right after frosting them.
Servings: 24
Nutritional information for one serving:
WW points: 4
WW points plus: 4
Calories: 149
Total fat: 8.7 g
Cholesterol: 22.9 mg
Sodium: 76.8 mg
Total carbs: 17.4 g
Dietary fiber: 0.2 g
Protein: 0.7 g
You might also like these Weight Watchers cookie recipes:
Photo credit: Margaret Johnson