WeightWatchers Spinach and Tofu Lasagna Recipe
|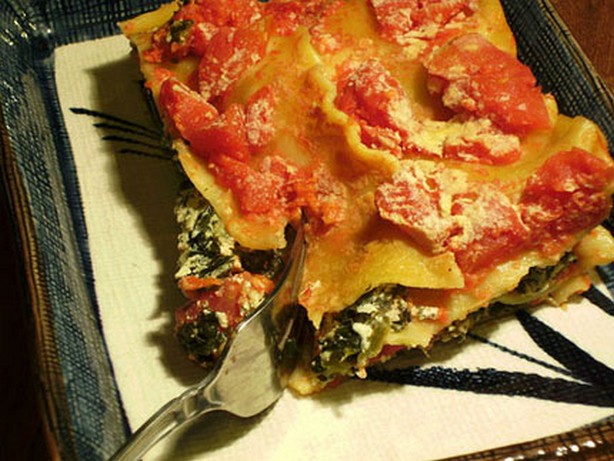 As the cold weather approaches, we all feel the need for some comfort food. This vegetarian lasagna is not only satisfying, it's also full of flavor.
Weight Watchers Spinach and Tofu Lasagna recipe
Ingredients
1 (16 ounce) boxes lasagna noodles
2 (10 ounce) bags baby spinach
1 lb firm tofu, drained and crumbled
2 cups mozzarella cheese, shredded
1/4 cup grated parmesan cheese
2 cups part-skim ricotta cheese
2 -3 garlic cloves, minced
1 medium onion, chopped
1 tablespoon olive oil
1 egg, beaten
2 cups spaghetti sauce or 2 cups alfredo sauce
2 1/2 tablespoons fresh parsley, chopped
1/4 teaspoon ground black pepper
1/4 teaspoon oregano
1/8 teaspoon garlic salt
Preparation
1. Preheat the oven to 350 degrees F.
2. Cook the noodles according to the directions on the package. Drain, set aside and keep warm.
3. Saute the garlic and onion in the olive oil, adding a little water as needed to keep from sticking. Add one bag of spinach and saute until completely wilted.
4. In a very large bowl combine the tofu, ricotta cheese, parmesan cheese, egg, oregano, garlic salt, parsley, black pepper and sauted spinach mixture. Mix well.
5. Spray a 9×13-inch pan with cooking spray. Arrange a layer of cooked noodles at the bottom and top with 1/3 each of the ricotta mixture, the tomato or alfredo sauce, a handful of uncooked spinach and some mozarella cheese. Repeat the layers twice more, ending with the sauce and cheese.
6. Cover with foil and bake for about 40-45 minutes. Remove the foil and bake for about 10-15 more minutes to brown the cheese.
Servings: 12
Nutritional information for one serving:
WW points: 7
Calories: 351
Total fat: 12.9 g
Cholesterol: 46.9 mg
Sodium: 451 mg
Total carbs: 39.2 g
Dietary fiber: 2.9 g
Protein: 20.5 g
Photo credit: serenejournal
You might also like these pasta recipes: