WeightWatchers Penne with Chicken and Sun-Dried Tomatoes Recipe
|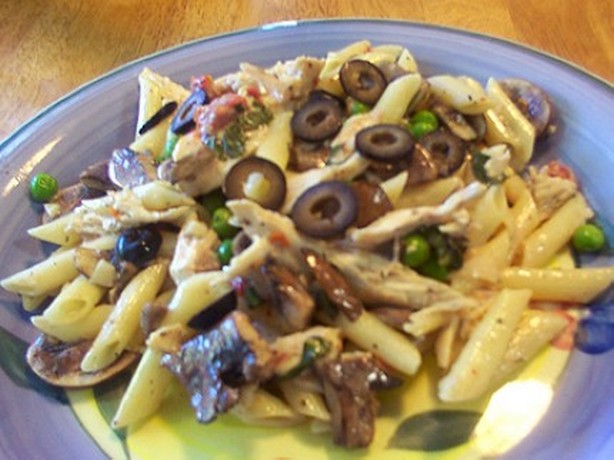 Weight Watchers Penne with Chicken and Sun-Dried Tomatoes recipe
Makes 4 servings
Ingredients
8 ounces dry penne pasta
6 ounces boneless skinless chicken breasts
1/4 cup sun-dried tomato, to taste (preferably packed in cellophane)
1 1/4 cups chopped fresh baby mushrooms or portobello mushrooms
5 garlic cloves, peeled and minced
3 tablespoons chopped shallots
5 black olives, sliced
1/2 cup fresh peas or thawed frozen peas, to taste
cooking spray
1/4 cup white wine
1 tablespoon italian seasoning
12 ounces evaporated skim milk
1/2 cup boiling water
1 tablespoon flour
1/2 cup chopped fresh basil
1/8 teaspoon crushed red pepper flakes
1/8 teaspoon ground nutmeg
Preparation
1. Preheat the oven to 350 degrees F.
2. Fill a large pot with water and bring to a boil while cooking the rest of the recipe.
3. Place the chicken and wine in a shallow baking dish, and sprinkle with Italian seasoning.
4. Bake for about 15-20 minutes (or until the meat is no longer pink and the juices run clear).
5. Shred the chicken and reserve the cooking juices.
6. Drain the sundried tomatoes and finely chop them.
7. Pour the chicken cooking juices into a small saucepan.
8. Add the tomatoes, mushrooms, peas and shallots.
9. Saute over low heat for a few minutes (until the liquid is absorbed and the vegetables are wilted).
10. Remove the pan from the heat.
11. Cover to keep the vegetables warm.
12. Add the penne pasta to the boiling water and cook to the desired consistency (about 8-10 minutes, or according to the package directions).
13. While the pasta is cooking, preheat a heavy small saucepan on medium heat for 1 minute, then coat twice with cooking spray.
14. Add the flour and garlic, then whisk in the evaporated skim milk.
15. Add the red pepper flakes and nutmeg.
16. Whisk constantly and bring to a boil.
17. Continue to cook for another 5 minutes, whisking constantly, until thickened.
18. Reduce the heat to low and add the basil.
19. Drain the cooked pasta and place in a large bowl.
20. Add the chicken, vegetables and sauce.
21. Toss and garnish with sliced black olives.
One serving is approximately 300 grams.
WW POINTS per serving: 7
Nutritional information per serving: 383 calories, 2.8g fat, 8.4g fiber