WeightWatchers Pistachio Fig Biscotti Recipe
|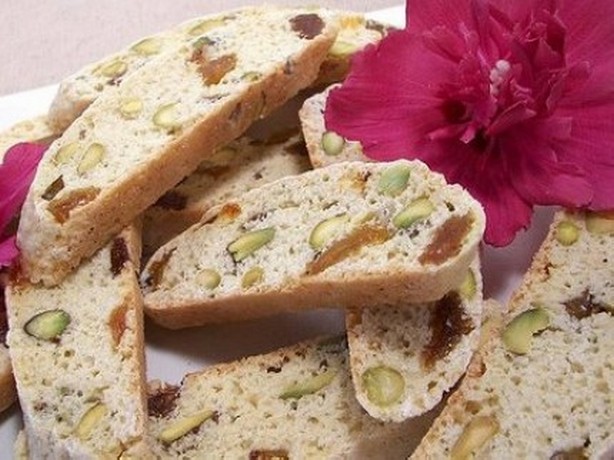 If you love biscotti, you've gotta try this recipe! The pistachio and fig combination is absolutely delicious!!
Weight Watchers Pistachio Fig Biscotti recipe
Makes 36 servings
Ingredients
1/2 teaspoon fennel seeds
1/2 cup unsalted butter
3/4 cup sugar
2 large eggs
1 teaspoon pure vanilla extract
1 teaspoon anise extract or sambuca romana
1 teaspoon grated lemons, zest of
2 1/4 cups all-purpose flour
1 1/2 teaspoons baking powder
1/4 teaspoon salt
1/2 cup shelled pistachios
4 ounces dried figs, stems removed,cut into 1/4 inch dice

Preparation
1. Heat oven to 350 degrees.
2. In a small pan over medium-low heat, toast fennel seeds, swirling the pan; set aside.
3. In the bowl of an electric mixer fitted with the paddle attachment, beat butter and sugar on medium-high speed until smooth, about 2 minutes.
4. Add eggs, extracts, and zest, and beat on medium speed until creamy and light (2 to 3 minutes).
5. Combine remaining ingredients in a medium bowl.
6. Add to butter mixture.
7. Mix on low speed until just incorporated.
8. Remove dough to a clean surface; divide into quarters.
9. Form into 9×1 inch logs, place on ungreased baking sheet 2 inches apart, and bake until lightly browned (25 to 30 minutes).
10. Remove from oven, and cool slightly.
11. Reduce oven temperature to 275 degrees.
12. Using a serrated knife, cut logs on the diagonal into 1/2″ thick slices.
13. Arrange biscotti on their sides on a baking sheet.
14. Return to oven, and bake until golden, about 30 minutes.
15. Turn biscotti over, and bake for 30 minutes more.
WW POINTS per serving (1 biscotti): 2
Nutritional information per serving: 87 calories, 3.7g fat, 0.6g fiber