WeightWatchers Potato Soup with Smoked Pork and Horseradish Recipe
|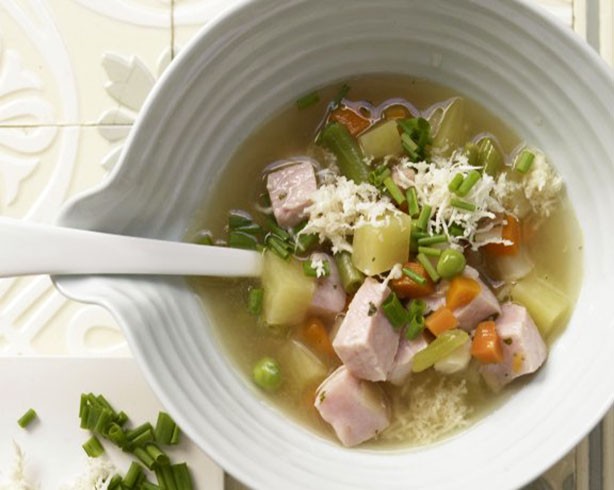 This potato and vegetable soup provides complex carbohydrates and easily digestible proteins, as well as lots of fiber, vitamins and minerals. The horseradish is perfect for winter, as it protects against colds and coughs. If you're vegetarian, you can replace the smoked pork with a can of frozen beans.
Weight Watchers Potato Soup with Smoked Pork and Horseradish (6 WW points plus, 5 WW old points)
Ingredients
500 ml vegetable broth
3 large waxy potatoes
1 tablespoon canola oil
300 g vegetables (frozen)
1 piece fresh horseradish
½ bunch of chives
150 g smoked pork (boneless)
salt
pepper
Instructions
Boil the vegetable broth. Peel the potatoes and cut into 1.5 cm cubes.
Heat the oil in a pot. Sauté the potatoes and vegetables for about 2-3 minutes. Pour in the boiling broth and bring to a boil. Cook over medium heat for about 10 minutes.
Meanwhile, peel and finely grate the horseradish. Wash the chives, shake dry and cut into small rings. Cut the smoked pork into large cubes and add to the boiling potato vegetable soup, cooking for about 3 minutes.
Season with salt and pepper to taste. Serve the potato and vegetable soup with sprinkled horseradish and chives.
Nutrition Information
Calories:
268
Fat:
9 g
Carbohydrates:
26 g
Sugar:
0 g
Fiber:
8.5 g
Protein:
20 g
Cholesterol:
38 mg
WW Points Plus
: 6
WW Old Points
: 5
You might also like these Weight Watchers soup recipes: