WeightWatchers Ham and Cheese Wraps Recipe
|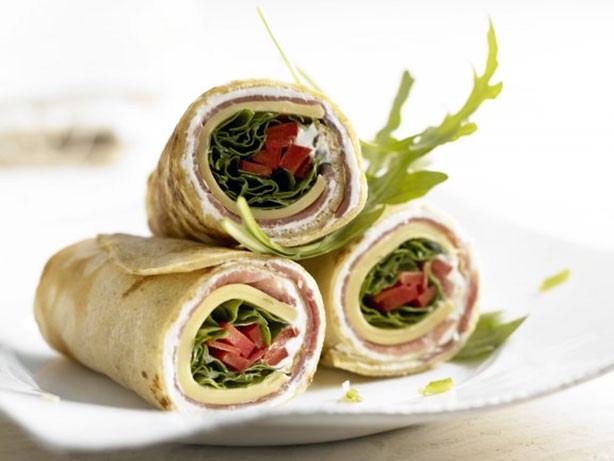 Here's a simple and delicious lunch that brings plenty of calcium for strong bones (one serving provides about a quarter of the daily requirement). In addition, there's also Vitamin B12 – good for your skin and hair, but also protecting against cancer. You can prepare these wraps the day before, and take them with you to work or school as a healthy snack or lunch.
Weight Watchers Ham and Cheese Wraps recipe (6 WW points plus, 5 WW old points)
Ingredients
75 g wheat wholemeal flour
75 g wheat flour
400 ml low-fat milk
3 eggs
2 tablespoons oil
a pinch of salt
1 red bell pepper
8 lettuce leaves
150 g cream cheese
16 slices smoked ham (150 g)
8 slices Gouda cheese
Instructions
Knead both types of flour, milk, eggs, 1 tablespoon oil and salt to a smooth dough and let sit for about 10 minutes.
Evenly coat a frying pan with some of the remaining oil, pour in some dough (not too much at once), distributing it evenly to the surface of the pan by swinging well, and bake on medium heat until you get one thin wrap. Place it on a plate.
Repeat the process with the remaining dough, until you have used up all the oil and all 8 wraps are baked. Let them cool.
Wash the pepper, cut in half, remove the seeds, then cut into thin strips. Wash, clean and spin dry the lettuce leaves.
Spread about 1 tbsp cream cheese on each wrap.
Add 1 lettuce leaf, 2 slices smoked ham and 1 slice Gouda cheese to each wrap. Finally, add the pepper strips in the middle.
Roll carefully, cut in half and serve.
If not eaten immediately, wrap in plastic cling film and store in the refrigerator for up to 2 days.
Nutrition Information
Calories:
238
Fat:
12 g
Carbohydrates:
15 g
Sugar:
0 g
Fiber:
2 g
Protein:
16 g
Cholesterol:
117 mg
WW Points Plus
: 6
WW Old Points
: 5
You might also like these Weight Watchers lunch recipes: