WeightWatchers Whole Grain Salmon Sandwiches Recipe
|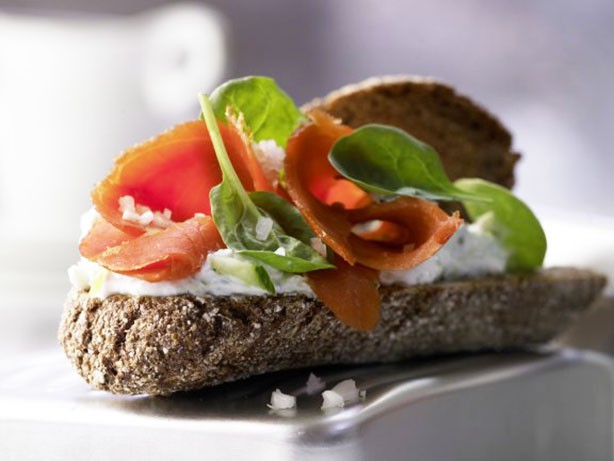 This salmon sandwich is a delicious contrast between the smoked fish and the savory buns. It's a lunch or snack that has it all: valuable omega-3 fatty acids for the heart and circulatory system, complex carbohydrates for weight loss, plenty of fiber for a stable blood sugar level, and lots of magnesium for muscle and nerve function. You can serve this with extra herbs if you want: try, for example, fresh dill, which goes well with cucumber and salmon and can help the digestion.
Weight Watchers Salmon Sandwiches recipe (7 smart points)
Ingredients
1 small cucumber
½ small lemon
4 tablespoons low-fat cottage cheese
salt
pepper
1 small handful of baby spinach leaves
1 small shallot
1 whole grain baguette roll (or other whole grain bread)
40 g smoked salmon (sliced)
Instructions
Wash the cucumber, pat dry and cut in half lengthwise. Detach the seeds with a teaspoon. Finely grate the cucumber using a box grater.
Place the grated cucumber on a clean kitchen towel and squeeze very strong over a bowl. Discard the liquid.
In a bowl, mix the grated cucumber with the juice of half a lemon and the cottage cheese. Season with salt and pepper to taste.
Wash the spinach in cold water and then spin dry well.
Peel the shallots and chop very finely. Cut the baguette rolls into halves and spread the cucumber-cheese mixture.
Add the spinach leaves and the smoked salmon occupy, and sprinkle with the chopped shallots. Place the second half of the bun as a lid on the sandwich.
Nutrition Information
Calories:
324
Fat:
4 g
Saturated fat:
1 g
Carbohydrates:
42 g
Sugar:
0 g
Fiber:
7 g
Protein:
26 g
Cholesterol:
16 mg
WW SmartPoints
: 7
WW Points Plus
: 7
WW Old Points
: 6
You might also like these Weight Watchers salmon recipes: