WeightWatchers Creamed Spinach Recipe
|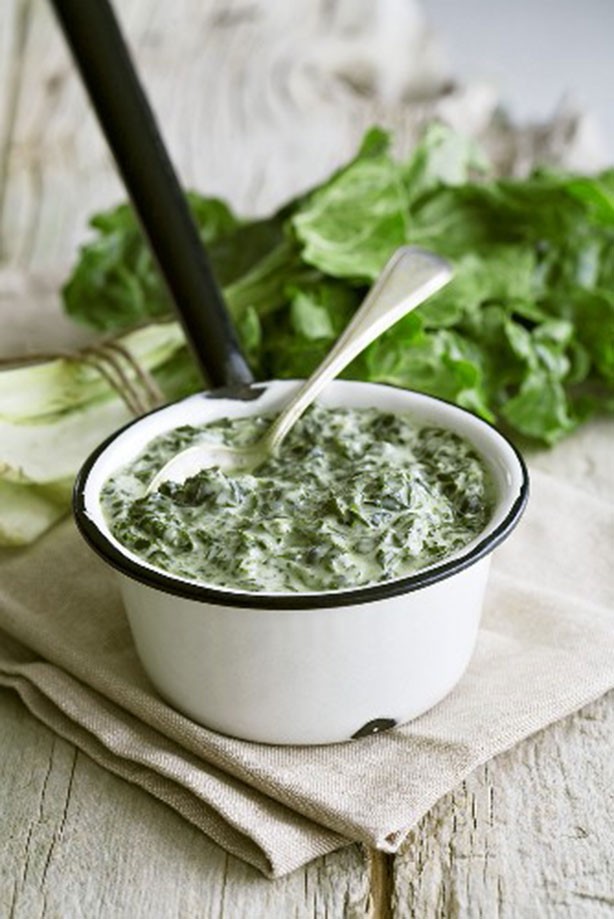 This recipe is rich and creamy and your family will want more… imagine that, wanting more spinach! You can serve this all by itself or as a side dish with chicken or turkey.
Spinach is not only rich in iron, but it also provides healthy doses of Vitamin K, Vitamin A, manganese, folate and magnesium.
Weight Watchers Creamed Spinach recipe (5 smart points)
Ingredients
1 lb baby spinach
1¾ cups Bechamel Sauce
1 teaspoon coarse salt
¾ cup water
salt and pepper, to taste
Instructions
In a large saucepan, bring the water and salt to a simmer.
Add the spinach; cover and cook for about 3 minutes (until the spinach wilts).
Drain the spinach in a colander, pressing out as much liquid as possible using the back of a wooden spoon.
In a large bowl, stir together the spinach with the warm bechamel sauce, until the spinach is completely coated.
Season with salt and freshly ground pepper, to taste.
Nutrition Information
Calories:
120
Fat:
3.5 g
Saturated fat:
1 g
Carbohydrates:
20 g
Sugar:
10 g
Sodium:
860 mg
Fiber:
6 g
Protein:
6 g
WW SmartPoints
: 5
WW Points Plus
: 3
WW Old Points
: 2
You might also like these Weight Watchers spinach recipes: