WeightWatchers Chicken Enchiladas Recipe
|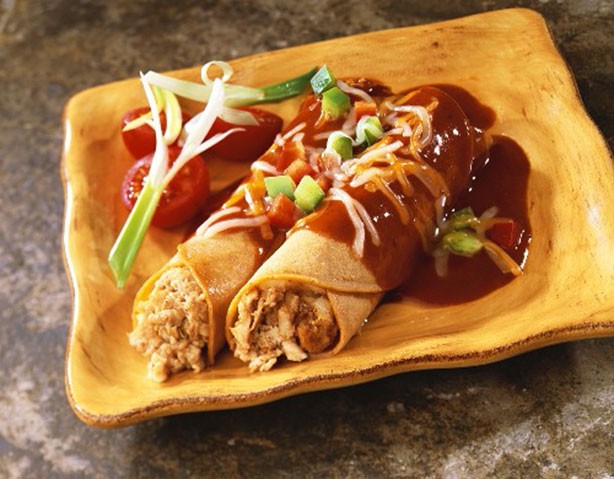 An enchilada is a traditional Mexican dish, which is made in many very different ways. They are very popular in Mexico, and eaten at any time of the day. This enchilada recipe is great not only because it is so easy to make, but also because it uses ingredients that you probably have on hand. And the taste is just fabulous.
Chicken Enchiladas recipe (10 WW points plus, 8 WW old points)
Ingredients
12 corn tortillas
2 cups cooked chicken, chopped
1 (8 ounce) can green chili salsa
1 (4 ounce) can diced green chilies
1?4 cup oil, for frying tortillas
2 cups fat-free half-and-half
2 cups reduced-fat monterey jack cheese, shredded
1?2 teaspoon salt
Instructions
Preheat the oven to 350 degrees F.
Mix the chicken, salsa and chilies in a small bowl.
Mix the cream and salt in a large shallow dish.
Heat the oil in a frying pan over medium-high heat.
Fry the tortillas one at a time for a few seconds, until they start to blister and turn soft.
Immediately dip each fried tortilla into the cream mixture.
Put a large dollop of the chicken mixture on each tortilla and roll it up.
Place in an ungreased baking pan; flap side down.
Pour the remaining cream over the roll enchiladas; sprinkle cheese over top.
Bake, uncovered, for about 20 minutes, or until heated through.
Notes
WW Points Plus: 10, WW Old Points: 8
Nutrition Information
Calories:
390
Fat:
17.4 g
Saturated fat:
4.6 g
Carbohydrates:
32.8 g
Sodium:
1048.1 mg
Fiber:
3.9 g
Protein:
26.4 g
Cholesterol:
47 mg
You might also like these Weight Watchers chicken recipes: