WeightWatchers Pickled Cauliflower with Lemongrass, Ginger and Star Anise Recipe
|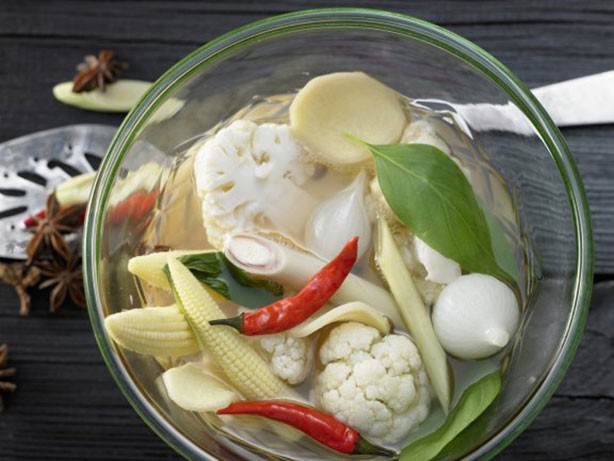 A perfect side dish for your figure: no fat, no calories and a great boost for your metabolism coming from the chili and ginger. In addition, cauliflower provides plenty of vitamin C to strengthen the immune system and potassium to help the heart, nerves and muscles.
This side dish recipe goes great with grilled fish.
Weight Watchers Pickled Cauliflower with Lemongrass, Ginger and Star Anise recipe
Ingredients
1 small cauliflower (about 850 g)
150 g baby corn
4 garlic cloves
15 pearl onions (about 150 g)
5 small red chili peppers
12 leaves Thai basil
2 stalks lemongrass
1 piece of ginger (about 50 g)
1 tablespoon salt
1 tbsp cane sugar
175 ml white wine vinegar
1/2 star anise
Preparation
1. Take a 800 ml jar or glass dish, rinse with boiling water, pat with a clean kitchen cloth and leave to dry. Clean the cauliflower, wash and divide into florets.
2. Rinse the baby corn, drain and clean if necessary. Peel the garlic and onions.
3. Wash and pat dry the chillies. Wash the basil, shake dry and pluck the leaves.
4. Remove the hard outer leaves of the lemongrass and cut the lemongrass into pieces so that they fit into the jar. Wash the ginger thoroughly, pat dry and cut into slices.
5. In a saucepan, bring to a boil 500 ml of water with salt, sugar and vinegar. Let the cauliflower, corn, garlic, onion and lemongrass cook for 5 minutes each in succession. Remove and drain. Take the vinegar off the heat and reserve.
6. Arrange all cooked vegetables alternately in layers with the basil leaves and chili peppers into the prepared jar or glass dish.
7. Measure the vinegar and if necessary add a little water to get to 450 ml. Put it back into the pot, add the star anise and bring to a boil over high heat. Pour the boiling hot water into the glass jar so that it completely covers the vegetables. Tightly seal the jar.
8. Put the glass jar in a large pot and add as much boiling water, so that it covers about 3/4 of it. Let simmer at minimum 80 degrees C for about 25 minutes. Remove the pan from the heat and let the glass cool completely in the water.
Servings: 10
Nutritional information for one serving:
WW points plus: 1
WW old points: 0
Calories: 32
Total fat: 0 g
Total carbs: 5 g
Dietary fiber: 2.5 g
Protein: 2 g
You might also like these Weight Watchers side dish recipes: