WeightWatchers Easter Nest Cupcakes Recipe
|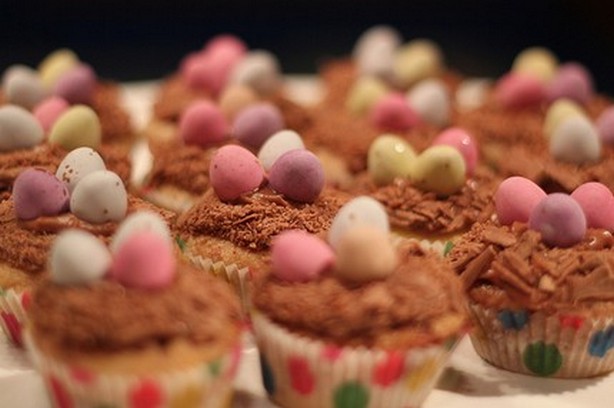 Now I know that at 8 WW points per serving (and 10 WW points +) this is not exactly a diet-friendly recipe, but since Easter is only once a year, we might as well indulge in these uber cute cupcakes!
Weight Watchers Easter Nest Cupcakes recipe
Ingredients
110 grams self-raising flour, sifted
110 grams caster sugar, sifted
2 eggs
110 grams unsalted butter, cut into small cubes and melted at room temperature
2 tbsp thickened cream
1/2 tsp vanilla extract
1/2 tsp baking powder, sifted
100 grams semi-sweet chocolate chips
32 mini candy eggs for topping
1 tbsp milk
chocolate bar (for the chocolate flake shavings, not included in nutritional analysis)
Preparation
1. Place the sugar, butter, eggs, baking powder, flour and vanilla extract in a medium bowl and beat with an electric whisk on medium speed for about 2-3 minutes (until smooth).
2. Place the baking cases in muffin tins.
3. Spoon the mixture about half filled into the cases.
4. Bake in the preheated oven of 350° F (175° C) for about 20 minutes, until the top turns golden brown.
5. Remove the tins from the oven and let cool for about 5 minutes, then remove the cupcakes and cool on a wire rack.
6. Make the chocolate icing/fondue by boiling a pot of water and reducing to a low, gentle simmer.
7. Place a smaller pot with the chocolate chips over the larger pot and stir until the chocolate is fully melted.
8. Add the milk and cream while the chocolate is warm, stirring until the mixture becomes smooth.
9. Keep the chocolate warm with a fondue pot.
10. To make the chocolate flakes shavings, use a knife to scrap the surface of a chocolate bar.
11. Assemble the cupcakes by swirling the chocolate fondue onto the cupcakes; top with the chocolate shavings and 4 mini eggs for each cupcake.
Servings: 8
Nutritional information for one serving:
WW points: 8
WW points plus: 10
Calories: 353
Total fat: 20.1 g
Cholesterol: 78 mg
Sodium: 30.5 mg
Total carbs: 41.8 g
Dietary fiber: 1.1 g
Protein: 4.3 g
You might also like these Weight Watchers dessert recipes:
Photo credit: ohsarahrose