WeightWatchers Valentine's Day Red Velvet Cupcakes Recipe
|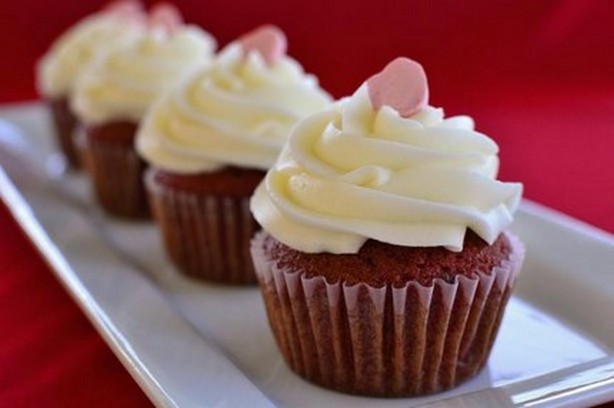 Red velvet cupcakes are the perfect pick for Valentine's Day. They are so striking with their brilliantly red color that is topped with lovely swirls of cream cheese frosting. For an even sweeter touch, top each one with a cute conversation candy heart.
Weight Watchers Valentine's Day Red Velvet Cupcakes recipe
Ingredients
1 (18 1/4 ounce) package yellow cake mix
5 large eggs
1 cup buttermilk
2 tablespoons unsweetened baking cocoa
2 (1 ounce) bottles red food coloring
1/2 cup vegetable oil
cream cheese frosting
Preparation
1. Preheat the oven to 350 degrees F.
2. Line 24 regular-size muffin tins with paper or foil liners.
3. In a large bowl, beat the cake mix with the vegetable oil, eggs, baking cocoa, food coloring and buttermilk for about 2 minutes, scraping down the sides of the bowl occasionally.
4. Spoon the batter evenly, about two-thirds full, between the muffin tins.
5. Bake according to the cake mix package directions.
6. After cooking, remove from the pans immediately and cool on wire racks.
7. Spread the cupcake tops with the cream cheese frosting.
8. Enjoy with your loved one!
Servings: 1
Nutritional information for one serving:
WW points: 4
WW points plus: 4
Calories: 153
Total fat: 8.1 g
Cholesterol: 39.5 mg
Sodium: 167.4 mg
Total carbs: 17.6 g
Dietary fiber: 0.3 g
Protein: 2.6 g
You might also like these Weight Watchers dessert recipes:
Photo credit: Margaret Johnson