WeightWatchers Pumpkin Spice Waffles Recipe
|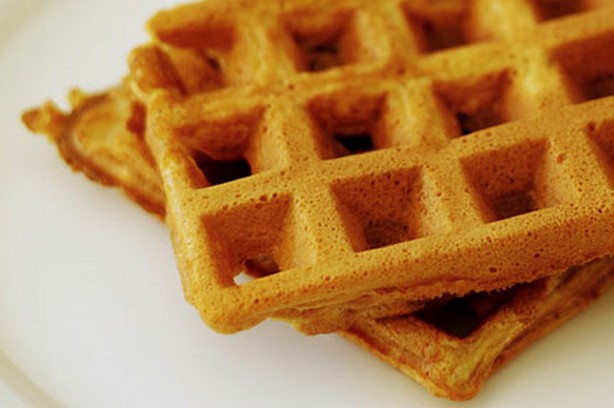 These waffles are my new favorite waffles. They have a light texture and there's a perfect balance between the pumpkin flavor and the other flavors. What more can I say… they are simply delicious, but don't take my word for it, just try them!
Weight Watchers Pumpkin Spice Waffles recipe
Ingredients
1 cup canned pumpkin puree
1 1/2 cups all-purpose flour
1/2 teaspoon baking soda
3 teaspoons baking powder
1/4 cup firmly packed brown sugar
2 eggs
1 teaspoon nutmeg
1 teaspoon cinnamon
1 teaspoon ground ginger
1 pinch salt
4 tablespoons butter, melted and cooled
1 2/3 cups milk
Preparation
1. In a large bowl, mix together the baking soda, baking powder, flour, nutmeg, cinnamon, ginger, and salt.
2. In a second bowl, add the sugar, eggs, milk, pumpkin, and butter; beat well.
3. Gently fold in the flour mixture.
4. Cook according to your waffle iron directions (use about 1 cup batter and bake for about 4-5 minutes, until they turn out a deep golden brown).
5. Serve with a little bit of syrup or with honey butter. Simply divine!
Servings: 1
Nutritional information for one serving:
WW points: 5
WW points plus: 6
Calories: 227
Total fat: 9.2 g
Cholesterol: 68.8 mg
Sodium: 403.8 mg
Total carbs: 30.5 g
Dietary fiber: 1.7 g
Protein: 6.1 g
You might also like these Weight Watchers breakfast recipes:
Photo credit: little blue hen