WeightWatchers Italian Easter Bread Recipe
|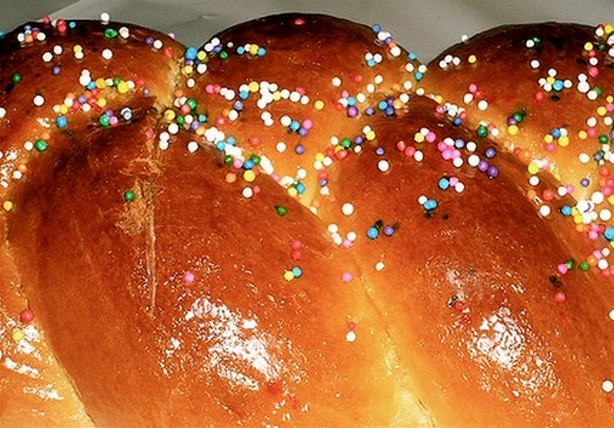 This is a wonderful bread to have at Easter time. It is great for toast, especially french toast. Here's an authentic Italian bakery secret: after braiding, put sugar cubes on top that will burst in the oven in those areas.
Be careful about the serving size though, the nutrition for this recipe is calculated for 80 servings!
Weight Watchers Italian Easter Bread recipe
Ingredients
flour, enough to make a soft but not sticky dough (about 12 cups or more)
1 quart whole milk, scalded and at room temperature
4 cups granulated sugar
12 large eggs
2 lemons, juice and zest of
2 oranges, juice and zest of
2 cups butter at room temperature
1/4 lb fresh bakery yeast
3/4 tablespoon salt
Preparation
1. Scald the whole milk and let cool, then add in the yeast.
2. Beat the eggs with the orange and lemon juice and zest.
3. Beat the butter and sugar until fluffy.
4. Add the beaten egg mixture into the beaten butter-sugar mixture.
5. Combine with the cooled scaled milk and the yeast mixture.
6. Combine well, then gradually add the sifted flour until a soft dough comes together.
7. Turn out onto a table and knead until soft but not too sticky (for about 5-10 minutes).
8. Let the dough double in a greased, covered bowl.
9. Punch down and let rise again.
10. Form into braids after the second rising.
11. Let rise until almost doubled
12. Bake in the oven at 350 degrees F for about 20 minutes (until golden).
Servings: 80
Nutritional information for one serving:
WW points: 2
WW points plus: 3
Calories: 104
Total fat: 5.8 g
Cholesterol: 41.3 mg
Sodium: 122.7 mg
Total carbs: 11.9 g
Dietary fiber: 0.5 g
Protein: 2 g
You might also like these Weight Watchers bread recipes:
Photo credit: Alipyon
For more Italian recipes, please visit Easy Italian Recipes!