WeightWatchers Chicken Tacos Recipe
|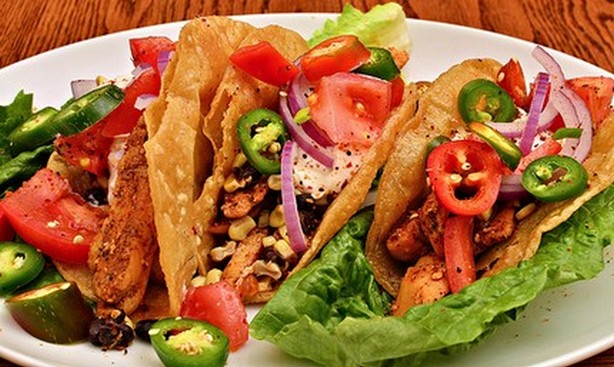 I love chicken tacos but I must admit it wasn't easy finding a diet-friendly recipe for this dish. Most of the chicken taco recipes that I've found online were around 9 points or more per serving, so I kept looking until I found this one. The nutritional info doesn't include the toppings, just the basic recipe. Enjoy!
Weight Watchers Chicken Tacos recipe - 5 WW points, 7 WW points plus
Ingredients
2 boneless skinless chicken breasts, chopped/shredded and cooked
1 (16 ounce) can beans (kidney beans, black beans or pinto beans), undrained
½ cup black olives (sliced)
1 cup corn
1 jalapeno pepper, chopped
1 teaspoon minced garlic
½ cup chopped onion
1-2 tablespoon chili powder
1-2 tablespoon olive oil
¼-1/2 teaspoon red pepper flakes
1-2 teaspoon cumin
½ teaspoon oregano
salt (to taste)
½ cup water
flour tortillas
4-8 ounces tomato sauce (optional)
Toppings (any of your favorites): shredded cheese, sour cream, guacamole or salsa
Instructions
Saute the onion in large pan until translucent. Add the chopped jalapeno peppers and garlic, and saute briefly, stirring.
Add the cooked chicken (or if you only have raw chicken on hand, cut it into strips and saute it with the onions), the seasonings and all the other remaining ingredients (except the tortillas and toppings).
Cook over medium-high heat for about 5-10 minutes, until the ingredients are combined and the liquid cooks down.
Adjust the salt and seasonings to taste.
Serve in flour tortillas with your topping of choice.
Notes
WW points: 5
WW points plus: 7
Nutrition Information
Calories:
285
Fat:
7.3
Carbohydrates:
34.5
Fiber:
9.9
Protein:
23
Cholesterol:
34.2
Photo credit: jeffreyw
You might also like these Weight Watchers chicken recipes: