WeightWatchers Pumpkin, Potato and Leek Soup Recipe
|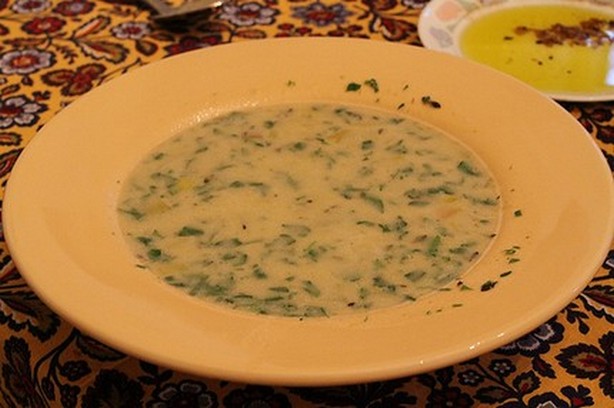 A delicious creamy soup that can be made up to 3 days ahead. It's an unusual spice combination that you will probably love if you like Moroccan food.
Weight Watchers Pumpkin, Potato and Leek Soup recipe
Ingredients
1 1/2 lbs sugar pumpkin, peeled, halved lengthwise, seeded and cut into 1 inch chunks
1 large potato, peeled and cut into 1 inch chunks
3 leeks, white and light green parts only, halved lengthwise and thinly sliced
10 black peppercorns
4 whole cloves
4 sprigs fresh parsley
1 bay leaf
3 cloves garlic, minced
3 tablespoons olive oil
1 teaspoon dried thyme
1 teaspoon ground cinnamon
2 cups half-and-half
4 cups low sodium vegetable or chicken broth
1 teaspoon sugar
1 teaspoon salt
fresh ground pepper
1 pinch cayenne pepper
1/4 cup chopped fresh parsley
Preparation
1. Cut an 8-inch square of cheesecloth and place the peppercorns, cloves, parsley and bay leaf in the center; bring up the ends to form a sack and tie securely with a kitchen twine; set aside.
2. In a large saucepan, saute the leeks and garlic in olive oil over medium heat for about 3-5 minutes (until tender but not brown).
3. Add the thyme and cinnamon and cook for about 1 more minute.
4. Add the chunks of pumpkin, potato, the stock, and the spice bag; bring to a boil.
5. Reduce the heat and simmer, covered, for about 20 minutes (or until the pumpkin and potatoes are fork-tender); discard the spice bag.
6. Cool the soup for about 5-7 minutes, then puree in batches in a food processor or blender.
7. Return the pureed soup to the pan and add the half and half, cayenne, sugar, salt and ground pepper (to taste).
8. Cook (but do not boil) over low heat until heated through.
9. Adjust the seasonings according to taste and serve garnished with fresh parsley.
Servings: 8
Nutritional information for one serving:
WW points: 5
Calories: 226
Total fat: 13 g
Cholesterol: 22.3 mg
Sodium: 363.5 mg
Total carbs: 23.7 g
Dietary fiber: 2.3 g
Protein: 6.6 g
Photo credit: biberfan
You might also like these Weight Watchers soup recipes: