WeightWatchers Lemon Meringue Pie Recipe
|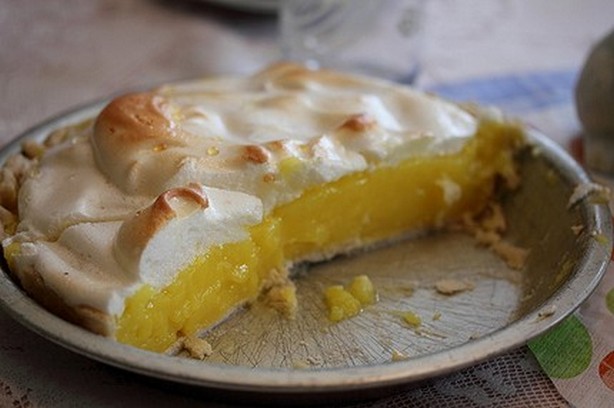 Now this might sound a little complicated, but the end result is definitely worth it – a delicious sweet & tart lemon meringue pie!
Weight Watchers Lemon Meringue Pie recipe
Ingredients
10-inch pie shells or 9 inch pie shell, refrigerated
For the filling
4 large egg yolks
1 cup sugar
2 tablespoons unsalted butter
5 tablespoons cornstarch
1/2 cup milk
1 cup water
1/4 teaspoon salt
2 teaspoons freshly grated lemons, zest of
1/2 cup fresh lemon juice
For the meringue
4 large egg whites
1/2 cup sugar
1/4 teaspoon cream of tartar
Preparation
1. Preheat the oven to 400° F.
2. Line the refrigerated pie crust with wax paper and fill with dried beans or pie weights.
3. Bake the shell in the middle of the oven for about 10 minutes; remove the paper and weights and bake the shell for about 12 more minutes (until golden); let cool.
4. Lower the oven temperature to 350° F.
5. For the filling: In a medium saucepan, whisk together the cornstarch, sugar and salt, gradually whisking in the milk and water until the cornstarch is dissolved.
6. Whisk together the egg yolks in a bowl.
7. Cook the milk mixture over medium heat, whisking, until it comes to a boil; gradually whisk about 1 cup of the milk mixture into the yolks and whisk the yolk mixture back into the milk mixture remaining in saucepan.
8. Simmer, whisking, for about 3 minutes. Remove the pan from the heat and whisk in the lemon juice, lemon zest and butter until the butter is melted.
9. Press the plastic wrap directly onto the surface of the custard.
10. For the meringue: Beat the egg whites with the cream of tartar and a pinch of salt until they hold soft peaks.
11. Beat in the sugar in a slow stream, beating until the meringue just holds stiff peaks.
12. Pour the lemon custard into shell and spread the meringue on top, covering the filling completely and sealing it to pastry. Draw the meringue up into peaks and bake the pie in the middle of the oven for about 15 minutes (until the meringue is golden).
13. Cool completely before serving.
Servings: 8
Nutritional information for one serving:
WW points: 5
Calories: 239
Total fat: 5.7 g
Cholesterol: 114.6 mg
Sodium: 113.2 mg
Total carbs: 44.6 g
Dietary fiber: 0.1 g
Protein: 3.7 g
Photo credit: Rob Ireton
You might also like these Weight Watchers dessert recipes: