WeightWatchers Baked Scallops Recipe
|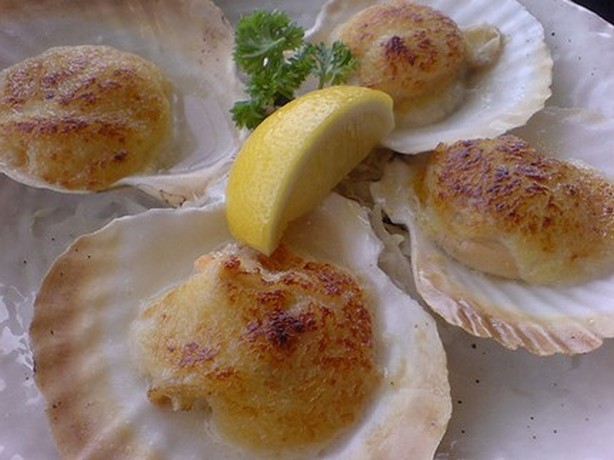 This is one of the easiest scallop recipes I have made yet, and just as tasty as it was easy! I also like the fact that it only requires common ingredients that you usually have in the kitchen.
Weight Watchers Baked Scallops recipe
Ingredients
1 1/2 lbs bay scallops, rinsed and drained
2 tablespoons butter, melted
1/4 cup grated parmesan cheese
1/2 cup seasoned dry bread crumbs
1 teaspoon garlic powder
1 teaspoon onion powder
3 garlic cloves, minced
1/2 teaspoon dried parsley
1/2 teaspoon paprika
Preparation
1. Preheat oven to 400 degrees F.
2. Pour the melted butter into a 2 quart casserole dish.
3. Combine the Parmesan cheese, bread crumbs, garlic powder, onion powder, paprika, minced garlic and parsley.
4. Top the scallops with the above mixture.
5. Bake for about 20 minutes.
Servings: 4
Nutritional information for one serving:
WW points: 5
Calories: 218
Total fat: 8.6 g
Cholesterol: 61.7 mg
Sodium: 879.5 mg
Total carbs: 10.1 g
Dietary fiber: 0.5 g
Protein: 23.9 g
Photo credit: punzy
You might also like these Weight Watchers seafood recipes: