WeightWatchers Orange Biscuits Recipe
|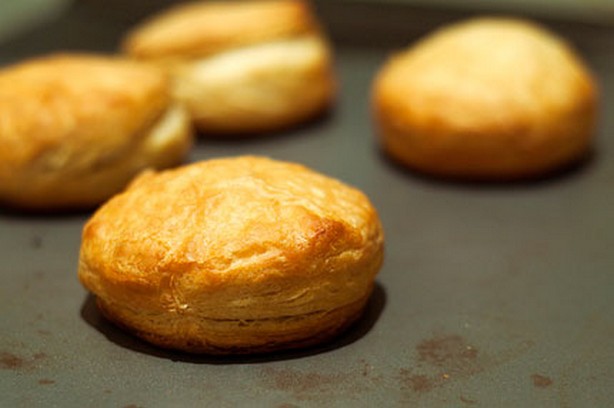 These biscuits are a special treat with some jam on top, but they're also delicious just by themselves.
Weight Watchers Orange Biscuits recipe
Ingredients
2 cups all-purpose flour
1 tablespoon baking powder
1/2 teaspoon salt
1/4 cup shortening
3/4 cup milk
1/2 cup orange juice
1/4 cup butter or 1/4 cup margarine
3/4 cup sugar, divided
2 teaspoons orange zest
melted butter or margarine
1/2 teaspoon ground cinnamon
Preparation
1. In a saucepan, combine 1/2 cup sugar, orange juice, orange peel and butter.
2. Cook and stir over medium heat for about 2 minutes.
3. Divide among 12 muffin cups; set aside.
4. In a large bowl, combine the flour, salt and baking powder.
5. Cut in the shortening until the mixture resembles coarse crumbs.
6. Using a fork, stir in the milk until the mixture forms a ball.
7. On a lightly floured surface, knead the dough for about 1 minute.
8. Roll into a 9-inch square, about 1/2-inch thick.
9. Brush with the melted butter.
10. Combine the remaining sugar and cinnamon; sprinkle over the butter. Roll up.
11. Cut into 12 slices, about 3/4-inches thick.
12. Place the slices, cut side down, over the orange mixture in the muffin cups.
13. Bake in the oven at 450 degrees F for about 12-16 minutes.
14. Let cool for about 2-3 minutes; remove from the pan.
Servings: 1 (12 biscuits)
Nutritional information for one serving:
WW points: 5
Calories: 211
Total fat: 8.8 g
Cholesterol: 12.3 mg
Sodium: 222.9 mg
Total carbs: 30.6 g
Dietary fiber: 0.6 g
Protein: 2.7 g
Photo credit: aithom2
You might also like these breakfast recipes: