WeightWatchers Macaroni and Cheese Recipe
|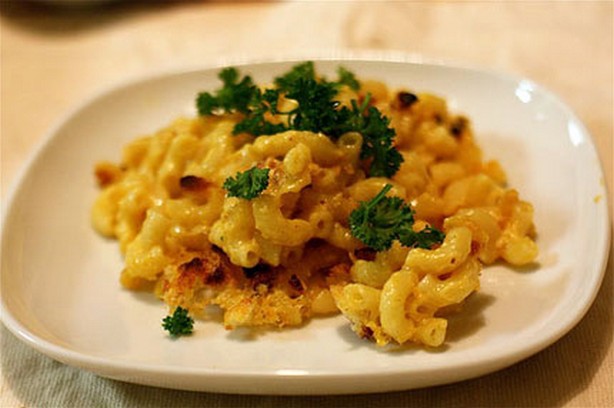 Here's a lower fat version of the family favorite baked macaroni and cheese recipe. I think it's actually better than many of the full-fat versions, because the lower fat content of the cheese keeps it from separating and getting greasy. You can experiment with different types of cheese if you want, just be patient while making the roux, as it's a little hard to make a good cream sauce when you have so little fat.
Weight Watchers Mac & Cheese recipe
Ingredients
2 cups uncooked elbow macaroni
1 1/2 cups reduced-fat sharp cheddar cheese
2 tablespoons margarine
2 cups skim milk
1/4 cup all-purpose flour
1/4 teaspoon Worcestershire sauce
1/4 teaspoon ground mustard
1/2 teaspoon salt
1/4 teaspoon pepper
Preparation
1. Preheat oven to 350º F.
2. Cook the macaroni as directed on the package.
3. While the macaroni is cooking, melt the margarine in a 3-quart saucepan over low heat.
4. Stir in the flour, Worcestershire sauce, mustard, salt and pepper.
5. Cook over medium-low heat, stirring constantly, until the mixture is smooth and bubbly.
6. Remove from the heat and gradually stir in the milk. Heat to a boil, stirring constantly. Boil and stir for about 1 minute.
7. Stir in the cheese. Cook, stirring occasionally, until the cheese is melted.
8. Drain the macaroni and gently stir into the cheese sauce.
9. Pour into an ungreased 2-quart casserole and bake in the oven, uncovered, until bubbly (for about 20-25 minutes).
Servings: 4
Nutritional information for one serving:
WW points: 8
Calories: 391
Total fat: 9.8 g
Cholesterol: 11 mg
Sodium: 686 mg
Total carbs: 52.2 g
Dietary fiber: 2.0 g
Protein: 22.3 g
Photo credit: naotakem
You might also like these pasta recipes: