WeightWatchers English Muffins Recipe
|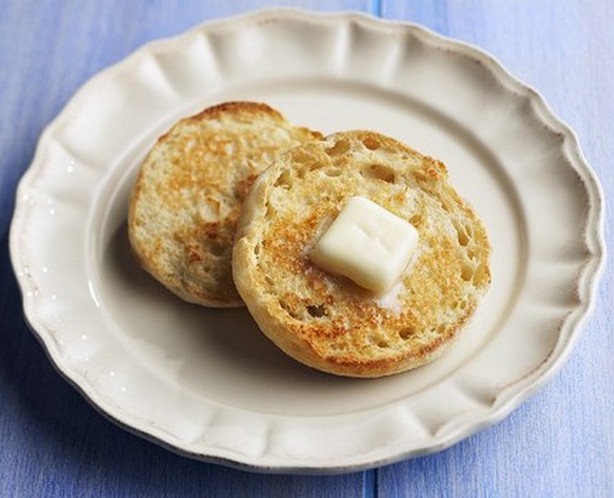 These home-made muffins are easy to make and taste just like the store bought ones, or even better!
Weight Watchers English Muffins recipe
Ingredients
3 cups unbleached white bread flour
1 tablespoon melted butter or olive oil
1/2 ounce yeast
1 1/2 teaspoons salt
1/2 teaspoon sugar
1 1/2 cups lukewarm milk
semolina or rice flour or cornmeal, for dusting
Preparation
1. Flour a non-stick baking sheet generously. Grease a griddle very lightly.
2. In a large bowl, sift the flour and salt together, then make a well in the center.
3. Blend 5 fl oz of the milk, yeast and sugar together. Let stand 5 minutes, then stir in the remaining milk and melted butter (or olive oil).
4. Add the yeast mixture to the center of the flour and beat together until smooth and elastic (for about 4-5 minutes). Cover with clear film that has been lightly oiled and leave to rise for about 50-60 minutes (or until doubled in bulk) in a warm place.
5. Turn out the dough on a well floured surface and knock back. Roll out to about 1/2 inch thick. Using a floured 3 inch plain cutter, cut into 9 rounds.
6. Dust with semolina or rice flour and place on the prepared baking sheet. Cover and leave to rise for about 20-30 minutes in a warm place.
7. Heat the griddle to medium heat. Carefully transfer the muffins in batches to the griddle and cook slowly for about 7 minutes on each side (or until they turn golden brown).
8. Transfer to a wire rack to cool, then serve.
Servings: 9 muffins
Nutritional information for one serving:
WW points: 4
Calories: 194
Total fat: 3.3 g
Cholesterol: 9 mg
Sodium: 418 mg
Total carbs: 34.5 g
Dietary fiber: 1.5 g
Protein: 6.3 g
You might also like these bread recipes: