WeightWatchers Caramel Popcorn Recipe
|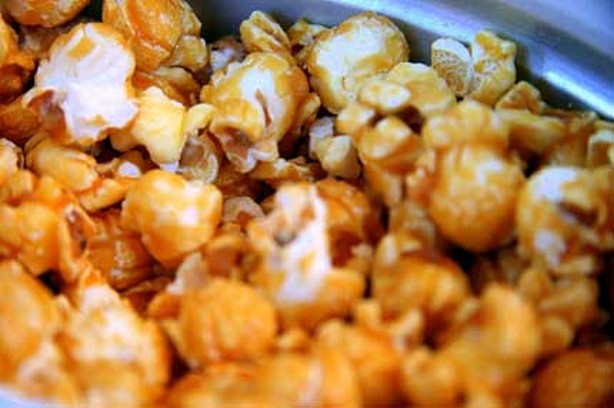 I love caramel popcorn, so when I found this recipe I naturally had to try it. I must say I was NOT disappointed by the result… this is a wonderful recipe!! The only problem I had with it is that it was so delicious that I ate almost 3 servings all by myself!
You can store this in an airtight container for up to 1 week, but if you're like me, it won't last that long. 😛
Weight Watchers Caramel Popcorn recipe
Ingredients
12 cups popped popcorn (popped without salt or fat)
1/3 cup butter
1/2 cup light corn syrup
1 cup packed dark brown sugar
cooking spray
1 tablespoon light molasses
1/2 teaspoon baking soda
1 1/2 teaspoons vanilla extract
1/2 teaspoon salt
Preparation
1. Preheat the oven to 250 degrees F.
2. Coat a large jelly roll pan with cooking spray.
3. Combine the butter, corn syrup, sugar and molasses in a medium saucepan; bring to a boil over medium heat. Cook for about 5 minutes, stirring once.
4. Remove from the heat; stir in the baking soda, vanilla and salt.
5. Place the popcorn in a large bowl and pour the sugar mixture over it in a steady stream, stirring to coat.
6. Spread the popcorn mixture into the prepared pan.
7. Bake at 250 degrees F for about 1 hour, stirring every 15 minutes.
8. Remove from the oven and stir to break up any large clumps. Let cool for about 15 minutes and serve warm or at room temperature.
Servings: 9
Nutritional information for one serving:
WW points: 5
Calories: 255
Calories from fat: 66
Total fat: 7.3g
Cholesterol: 18mg
Sodium: 270mg
Total carbs: 48.4g
Dietary fiber: 1.6g
Protein: 1.5g
You might also like these snack recipes: