WeightWatchers Lemon Bars Recipe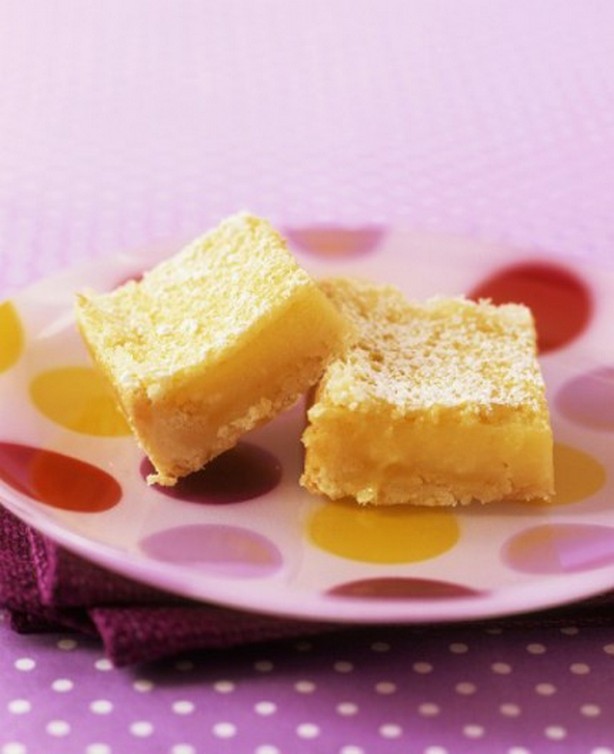 This is an easy recipe for some great lemon bars that taste delicious! The crust is buttery and tender, and the filling lemony and velvety. Yummy!
Weight Watchers Lemon Bars recipe
Makes 16 bars
Ingredients
For the crust
1/3 cup sweet unsalted butter
1 cup all-purpose flour
1/4 cup powdered sugar
For the topping
2 large eggs or egg whites, lightly beaten with a fork until foamy
3/4 cup granulated sugar
3 tablespoons lemon juice
1/2 teaspoon baking powder
2 tablespoons grated lemon zest
1/4 teaspoon salt (optional)
Additional ingredient
1/4 cup powdered sugar or icing sugar, for dusting tops
Preparation
1. Preheat the oven to 350° F.
2. Using a pastry blender, combine the crust ingredients until the mixture resembles crumbs.
3. Using your fingers, press the mixture into a greased and floured 8″ square glass baking pan (make sure that the entire bottom of the pan is evenly covered).
4. Bake partially for about 15 minutes, then remove from the oven.
5. While the crust is prebaking, combine the filling ingredients and pour over the warm crust.
6. Bake for about 15-20 minutes (or until lightly browned), being careful not to overbake.
7. Let cool completely.
8. Once cool, sift the powdered sugar over the top, according to your taste.
9. Slice into 16 bars and serve.
WW POINTS for one lemon bar: 3
Nutritional information for one lemon bar: 123 calories, 4.5g fat, 0.3g fiber