WeightWatchers Potatoes Stuffed with Ham and Gruyere Cheese Recipe
|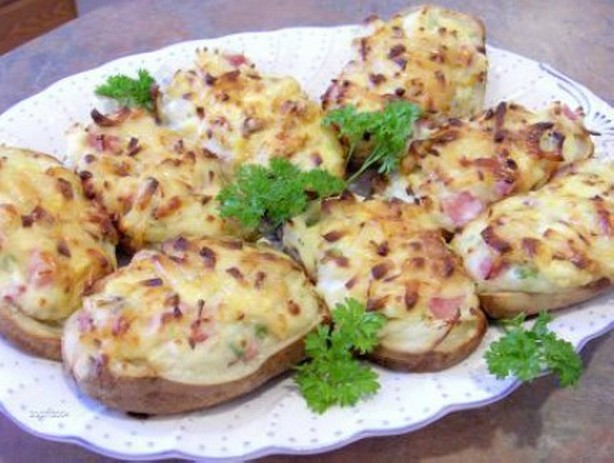 Weight Watchers Potatoes Stuffed with Ham and Gruyere Cheese recipe
Makes 4 servings
Ingredients
4 baking potatoes
1/2 cup chopped cooked ham
1/2 cup shredded Gruyere cheese
2 cloves garlic, smashed
2 teaspoons butter
1/2 cup 2% low-fat milk
1 tablespoon chopped fresh parsley
1/4 teaspoon salt
1/4 teaspoon cayenne pepper
Preparation
1. Preheat the oven to 500° F.
2. Pierce the potatoes with a fork and arrange them in a circle in the microwave oven.
3. Cover with damp paper towels.
4. Microwave the potatoes at high for about 6 minutes, then rearrange them and microwave for another 6 minutes (or until done).
5. Let stand for 2 minutes.
6. Split the potatoes open lengthwise in half; scoop out the pulp, leaving a 1/4 inch shell.
7. Reserve the shells, set aside the pulp.
8. In a small frying pan, heat the butter over medium-high heat.
9. Add the garlic; saute for about 30 seconds.
10. Add the milk; bring to a simmer.
11. Pour the milk mixture over the potato pulp.
12. Add the ham, 1/4 cup cheese and the remaining ingredients; mix well.
13. Stuff the potato shells with the mixture.
14. Sprinkle evenly with 1/4 cup cheese.
15. Bake at 500° for about 8 minutes (or until the cheese begins to brown).
WW POINTS per serving: 5
Nutritional information per serving: 254 calories, 10g fat, 2.5g fiber
Photo credit: Derf