WeightWatchers Mediterranean Chicken with Rosemary Orzo Recipe
|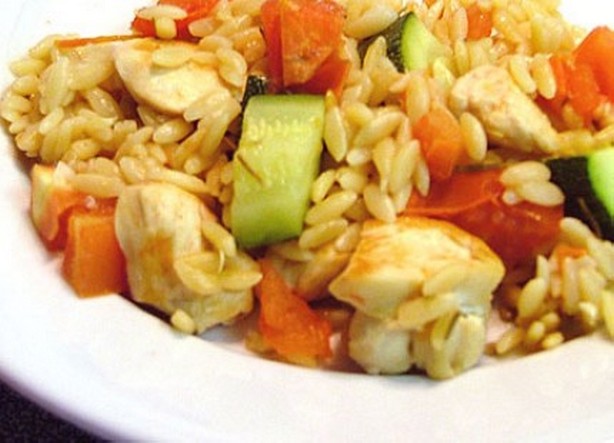 Weight Watchers Mediterranean Chicken with Rosemary Orzo recipe
Makes 4 servings
Ingredients
1 lb boneless skinless chicken breasts, cut into 1 inch strips
1 1/3 cups orzo pasta, uncooked
1 1/2 cups (about 2 medium) zucchini, julienned or chopped
1 medium green pepper, chopped
1 1/2 cups (about 3) plum tomatoes, choppped
2 cloves garlic, minced
1 (14 1/2 ounce) can fat free chicken broth
1 tablespoon chopped fresh rosemary leaf or 1 teaspoon dried rosemary
1/2 cup water
1/2 teaspoon salt
Preparation
1. Spray a 10-inch skillet with cooking spray and heat over medium-high heat.
2. Add the chicken and stir-fry for about 5 minutes (until browned).
3. Stir in the chicken broth, orzo and garlic.
3. Heat until boiling; reduce the heat, cover and simmer for about 8 minutes (or until the liquid is absorbed).
4. Stir in the remaining ingredients; bring to a boil.
5. Cover and simmer, stirring once, for about 5 minutes (until the pepper is crisp-tender and the orzo is tender).
One serving is approximately 450 grams.
WW POINTS per serving: 7
Nutritional information per serving: 364 calories, 2.7g fat, 3.7g fiber