WeightWatchers Zucchini Bread Recipe
|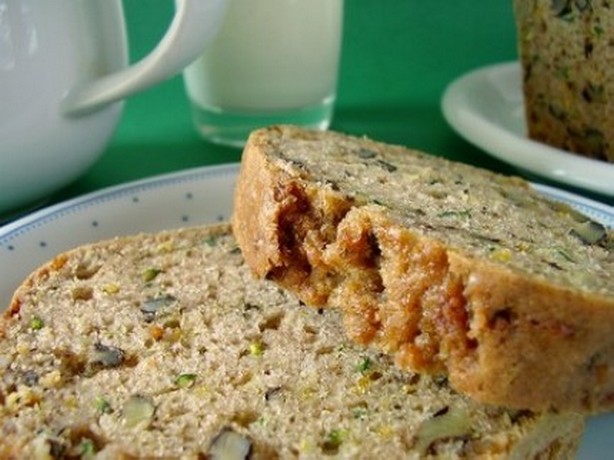 Weight Watchers Zucchini Bread recipe
Makes 24 servings
Ingredients
2 1/2 cups zucchini (unpeeled, grated)
3 1/2 cups all-purpose flour
1/2 teaspoon baking soda
2 teaspoons baking powder
1 teaspoon salt
4 large eggs, lightly beaten
1 cup toasted walnuts or pecans (coarsely chopped)
1/2 cup vegetable oil
1/2 teaspoon freshly grated nutmeg
1 teaspoon ground cinnamon
1/4 teaspoon ground cloves
1 cup sugar
2 tablespoons orange zest, grated
Preparation
1. Preheat the oven to 350° F.
2. Grease and flour two 8½-inch loaf pans.
3. Sift the flour, baking soda, baking powder, salt, cinnamon, cloves and nutmeg into a bowl and set aside.
4. In a large bowl, combine the zucchini, eggs, oil, sugar and orange zest and mix by hand until evenly blended.
5. Add the sifted dry ingredients to the zucchini mixture. Stir by hand just until the batter is evenly moistened and blended. Fold in the nuts.
6. Divide the batter between the prepared loaf pans.
7. Bake for about 50-55 minutes (until the edges are browned and starting to pull away from the pan and the bread springs back when lightly pressed with your fingertips).
8. Remove the loaves from the pans and let cool on wire racks before serving.
One serving is approximately 58 grams.
WW POINTS per serving: 4
Nutritional information per serving: 186 calories, 8.8g fat, 1.1g fiber