WeightWatchers Low Fat Stuffed Strawberries Recipe
|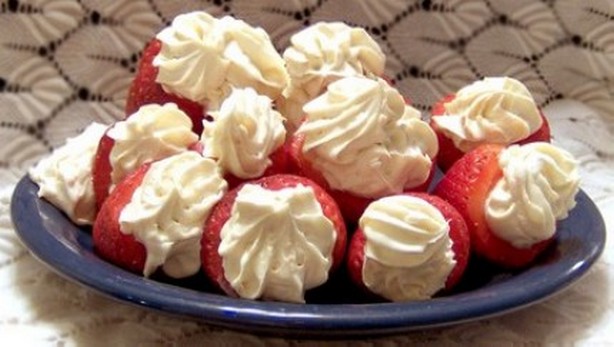 Weight Watchers Low Fat Stuffed Strawberries recipe
Makes 12 servings
Ingredients
1 lb fresh strawberries
2 1/2 teaspoons Splenda sugar substitute
4 ounces fat free cream cheese
1/2 teaspoon vanilla
Preparation
1. Clean the strawberries and cut off the tops so that they are flat. Place them on a plate.
2. Make a hole at the bottom of the strawberries with a small knife.
3. Using a mixer, blend the cream cheese with the vanilla and Splenda.
4. Using a small spoon, put little dollops of the cream cheese in the holes in the strawberries.
5. Chill until ready to serve.
WW POINTS per serving: 0
Nutritional information per serving: 21 calories, 0.2g fat, 0.8g fiber