WeightWatchers Pasta With Creamy Spinach Sauce Recipe
|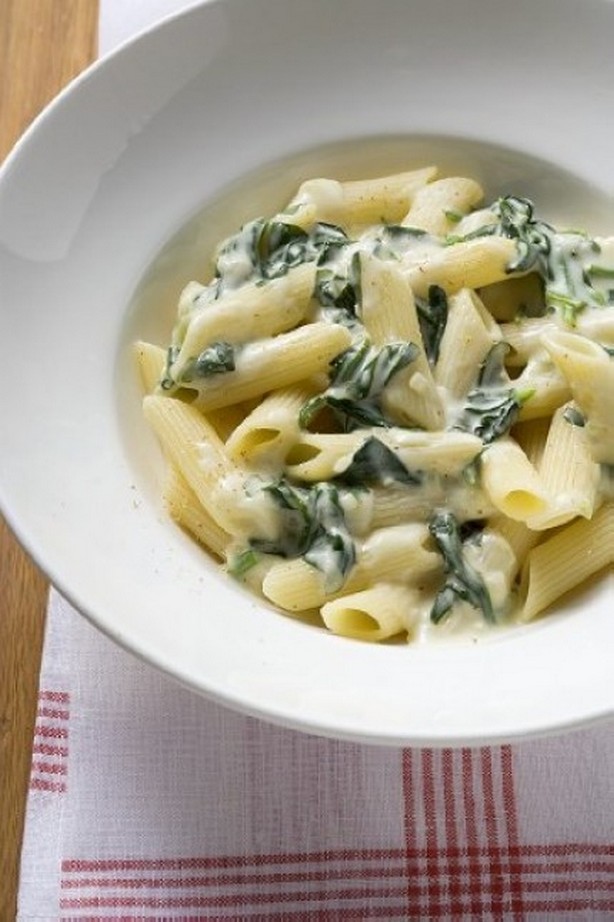 Here's a great pasta recipe that has become a favorite of mine. I love the creaminess of the cheese and spinach sauce!
If you like garlic, make sure to use it in the sauce – it gives a lot of flavor to the dish.
Weight Watchers Pasta With Creamy Spinach Sauce recipe
Makes 6 servings
Ingredients
1 lb pasta (penne or ziti)
1 lb fresh spinach, stemmed
1 cup low fat cottage cheese
1/4 cup grated parmesan cheese
1/4 cup low fat milk
1 pinch ground nutmeg
1-2 garlic cloves (optional)
salt and pepper (to taste)
Preparation
1. Bring a large pot of water to a boil.
2. Add the spinach and 1 tablespoon salt; cook for about 1 minute.
3. Using a slotted spoon, remove the spinach (reserve the water for the pasta) and transfer it to a bowl of cold water.
4. Drain and squeeze dry the spinach.
5. Chop it coarsely.
6. Bring the spinach water back to a boil. Meanwhile, in food processor fitted with steel blade, mince the garlic (if using).
7. Add the cottage cheese and blend until fairly smooth.
8. Add the cooked spinach and milk, and blend until smooth.
9. Add the nutmeg and salt and pepper to taste. Transfer to a shallow serving bowl.
10. Add the pasta to the boiling water, stirring to prevent sticking.
11. Cook the pasta until just tender (about 10 minutes or according to the instructions); drain well.
12. Add the pasta to the bowl with the spinach sauce, and toss to coat.
13. Sprinkle with parmesan cheese and toss again.
14. Serve hot.
WW POINTS per serving: 6
Nutritional information per serving: 342 calories, 2.8g fat, 4.1g fiber
You might also like these Weight Watchers pasta recipes: