WeightWatchers Spinach Cakes With Gouda Cheese Sauce Recipe
|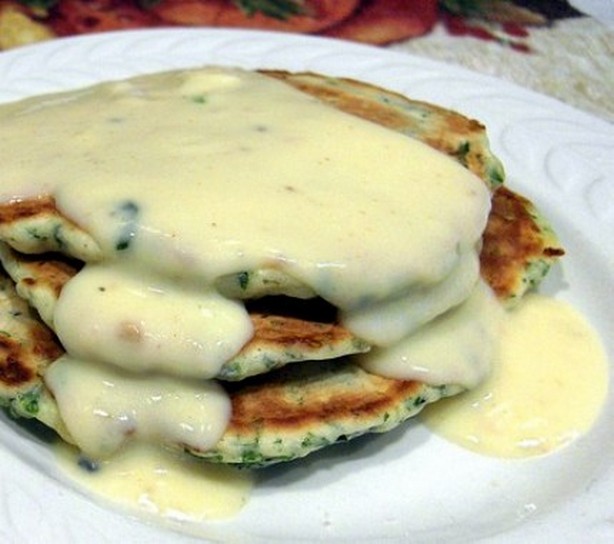 These delicious spinach cakes are moist and fluffy, while the creamy cheese sauce is smooth and has just the right consistency. A great breakfast recipe… I can't wait to make this again!
Weight Watchers Spinach Cakes With Gouda Cheese Sauce recipe
Makes 6 servings
Ingredients
For the cakes
150 g frozen spinach, well drained and squeezed with paper towel
1/2 cup smoked Gouda cheese, shredded
2 eggs, lightly beaten
1 1/2 cups all-purpose flour
2 teaspoons baking powder
1 dash salt
1 1/4 cups low-fat milk
2 sun-dried tomatoes packed in oil, finely chopped (undrained)
For the Gouda cheese sauce
2 tablespoons flour
2 tablespoons butter (or olive oil)
1 1/2 cups low-fat milk
1/2 teaspoon dry mustard
1/2 teaspoon cayenne pepper
3/4 cup smoked Gouda cheese, shredded
Preparation
1. In a large bowl, mix together the flour, baking powder and salt.
2. Separate the spinach as much as possible, and add it to the flour mix with the shredded cheese.
3. Mix well, and make a well in the center; set aside.
4. In another bowl, mix together the eggs, milk, sun dried tomatoes with their oil.
5. Mix well and pour them into the well in the flour mix; mix only until well moistened (the dough will be lumpy).
6. On a grill or a large frying pan, drop 1/4 cup of dough, spread lightly (do not crowd).
7. Grill until bubbles appear on the edges and the cake raises (about 3 – 4 minutes); flip and brown the other side.
8. Remove to oven proof platter, keep warm in a 200 degrees F oven. Repeat until all the batter is used.
9 To make the smoked Gouda cheese sauce: Heat the butter in a saucepan; mix together the flour, cayenne pepper and dry mustard; add to the butter, stirring constantly until thickened (about 1 minute).
10. Slowly add the milk, constantly stirring with a whisk. Bring to a boil while whisking; when thickened remove from the heat.
11. Immediately add the shredded smoked Gouda cheese, stirring until melted; keep warm.
12. Arrange the cakes in a pile on platter; pour the cheese sauce over and let drip down sides (or serve the cheese sauce separately and pour over the cakes just before eating).
WW POINTS per serving: 8
Nutritional information per serving: 333 calories, 14.9g fat, 1.8g fiber