WeightWatchers Mixed Vegetable Salad Recipe
|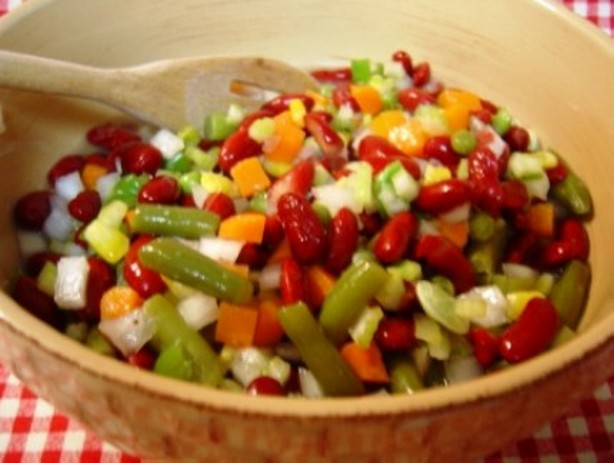 Here's a great recipe for the veggie lovers (and not only) – a salad with lots of vegetables and a very nice flavor.
Weight Watchers Mixed Vegetable Salad recipe
Makes 8 servings
Ingredients
1 (14 1/2 ounce) can mixed vegetables
1 (15 ounce) can kidney beans
1/2 cup chopped green bell peppers
1/2 cup chopped celery
1/2 cup chopped onions
1/2 cup apple cider vinegar
1 1/2 tablespoons cornstarch
1/2 teaspoon salt
3/4 cup sugar
1/4 teaspoon black pepper
1/2 teaspoon garlic powder
Preparation
1. Place mixed vegetables and kidney beans in a colander or strainer and rinse thoroughly; drain.
2. Mix together mixed vegetables, kidney beans, celery, onion, and bell peppers in a large bowl.
3. Heat sugar, vinegar, salt, pepper, garlic powder and cornstarch in a saucepan over medium heat, stirring until sugar and cornstarch dissolve; continue stirring until thickened; remove from heat.
4. When dressing has cooled, toss with salad, mixing well.
5. Chill well before serving.
WW POINTS per serving: 2
Nutritional information per serving: 157 calories, 0.5g fat, 4.3g fiber