WeightWatchers Vegetarian Lasagna Recipe
|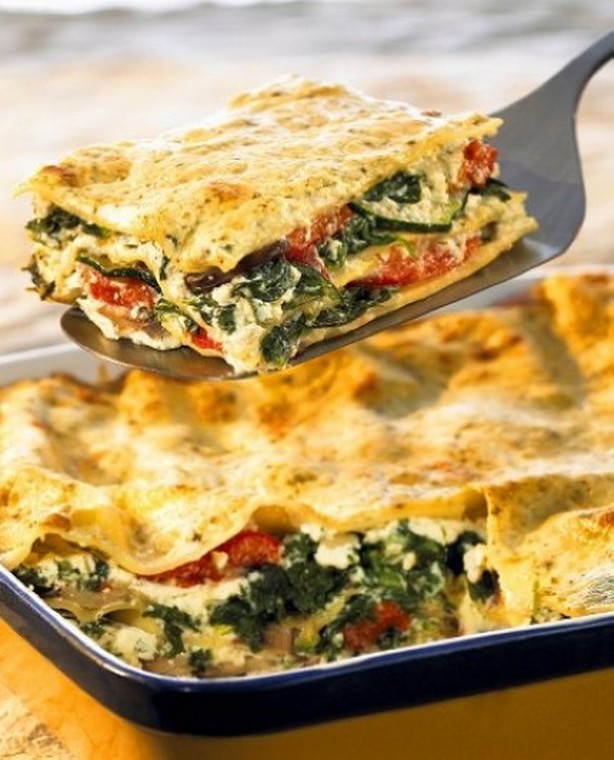 Hi everyone, I hope you had some great holidays!
Here is a delicious vegetarian (or vegan) lasagna recipe that's only 4 points. It's a must try!
Weight Watchers Vegetarian Lasagna recipe
Makes 16 servings
Ingredients
12 lasagna noodles
1 (19 ounce) can of worthington veggie burgers (you can also use another vegemeat like crumblers or gluten)
1 (300 g) package frozen chopped spinach
1 onion
1 garlic clove, chopped
2 tablespoons olive oil
1/4 cup chopped parsley
1 lb firm tofu
1 (26 ounce) can spaghetti sauce
3/4 cup shredded mozzarella cheese or soy cheese
1 tablespoon nutritional yeast flakes (optional)
parmesan cheese (optional)
Preparation
1. Cook lasagna noodles according to the package directions.
2. Saute onion and garlic in oil until tender. Add vegeburger or gluten.
3. Stir in spaghetti sauce and parsley. Simmer for 5 minutes.
4. Combine tofu and spinach and yeast flakes.
5. Put a thin layer of sauce and vegemeat on the bottom of a Large baking dish.
6. Place on layer of (3-4) noodles (slightly overlapped) on top of the sauce. Add another layer of sauce (can add a sprinkle of parmesan cheese too).
7. Repeat the last step until you get to the middle layer (usually there are 3-5 layers total depending on the depth of your pan).
8. In the middle, layer the tofu & spinach, then continue with the previous layering of sauce & vegemeat and noodles.
9. The top layer should be covered in sauce with mozzarella or soy cheese sprinkled on top.
10. Bake for 1 hour at 350 degrees F or 180 degrees Celsius.
WW POINTS per serving: 4
Nutritional information per serving: 218 calories, 7.7g fat, 3.4g fiber