WeightWatchers Strawberry Trifle Recipe
|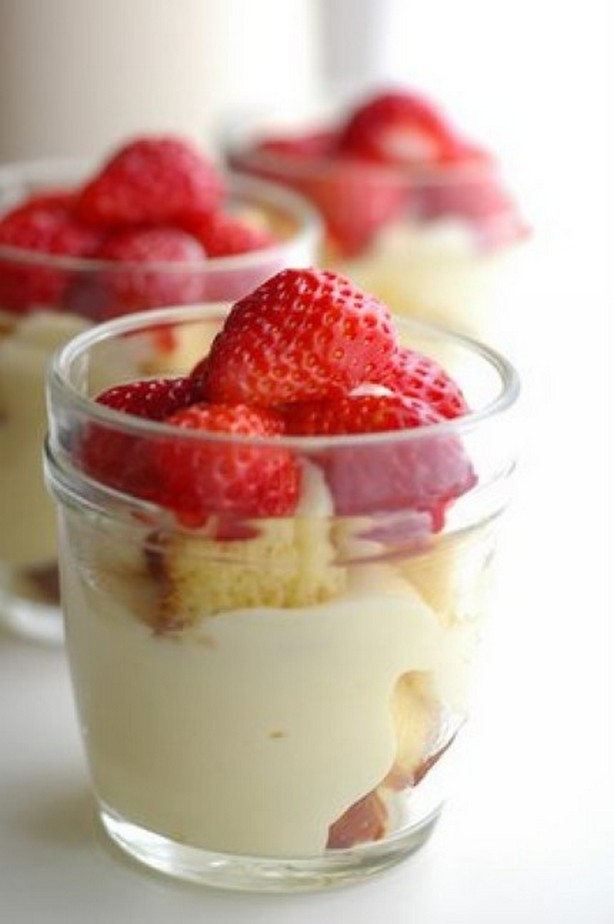 These strawberry trifles make your mouth water just by looking at them. When you actually eat them, you'll feel in heaven!
Seriously, this is one of my favorite desserts in the whole world!
Weight Watchers Strawberry Trifle recipe
Makes 6 servings
Ingredients
1 angel food cake
2 pints fresh strawberries
1 large navel orange
6 tablespoons Splenda sugar substitute
1/8 teaspoon almond extract
2 teaspoons vanilla
1/2 teaspoon cinnamon
fat-free cool whip
Preparation
1. Wash, stem, and slice strawberries (use an egg slicer to get even slices).
2. Place strawberries in medium bowl.
3. Using a reamer, juice orange into the bowl of strawberries.
4. Stir, adding Splenda, extract, vanilla, and cinnamon.
5. Stir berries in this juice very well and set aside to allow berries to macerate while you assemble the trifle.
6. Tear half of angel food cake into bite-size bits and place in bottom of trifle bowl.
7. Add half of strawberries followed by the other half of the angel food cake torn into bite size bits.
8. Place remaining strawberries on top of cake.
9. Pour juice over the layers.
10. Top with Cool Whip.
11. Chill until ready to serve.
Suggestions: You can garnish the top of the cool whip by saving two or three of the strawberries and making a fan. To do this, place a strawberry stem side down in your egg slicer, slowly lower the top and slice into the strawberry just to the point that it is about to cut through. Pull the strawberry out and spread the slices.
WW POINTS per serving: 6
Nutritional information per serving: 309 calories, 0.7g fat, 3.2g fiber